Hi everyone, Jane here. Founder of janegee. I am here to share about our very own Vitamin Creme. As you may already know, I typically curate our line of all-natural products based on common skin types and clients needs, but believe it or not, I originally created this creme for myself! I was on the hunt for a face cream that was light in texture, yet rich in ingredients. A creme to hydrate my skin, without leaving me feeling oily. 
A multi-use creme that was chock-full of anti-aging ingredients that would keep my skin healthy and glowing. 
And just like that, Vitamin Creme was born. This botanical-based, age-defying powerhouse is packed with Vitamin C and a synergistic blend of natural oils and rooibos tea that will both strengthen and detoxify your skin. It treats fine lines, wrinkles, and dryness for a healthy, youthful look. This light and refreshing product can be used both day and night (no need to purchase a separate nighttime cream, booyah!) and it can even be used around the eyes. It's silky formula is absorbed readily into the skin, leaving you feeling dewy without oily residue. Your skin will truly feel hydrated and radiant all day long! 
It seems as though we hit the mark on this product, because vitamin creme is one of the best selling creams we offer! Our clients are in love with the way it speeds up the skin's natural repair systems and protects against further harm (such as sun damage and skin cancer). After application, your skin feels natural, nourished and simply beautiful. If you haven't had a chance to try it yet, what are you waiting for? Stop in today to snag your very own jar and let us know what you think!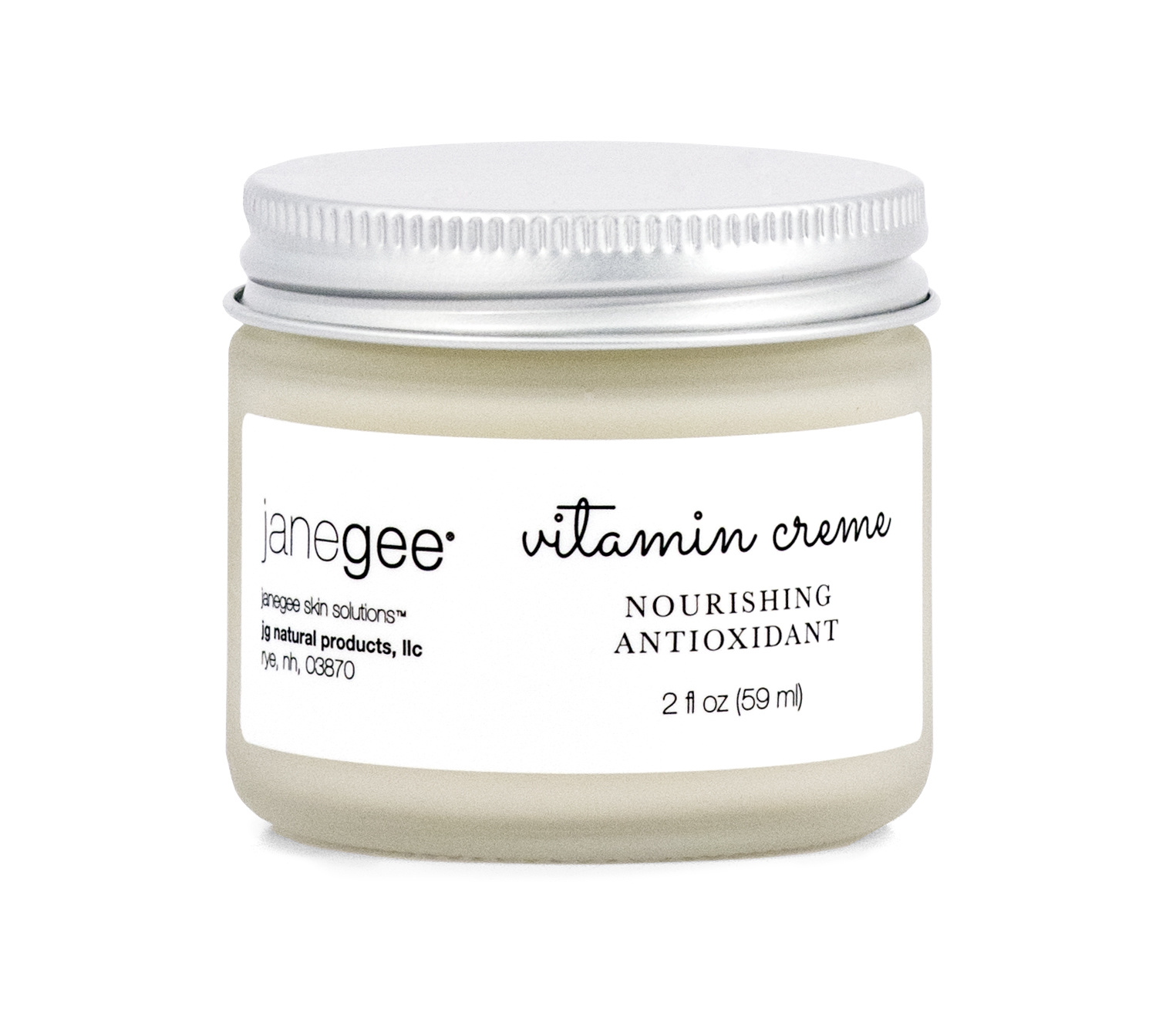 Product details: Vitamin Creme is ideal for normal, sensitive, and mature skin that does not get congested.
Directions: While being light in texture, Vitamin Creme is so rich in ingredients that a small amount goes a long way. Once you have washed your face and applied your serum and face oil, gently press a small amount of Vitamin Creme all over your face. Repeat morning and night.
Ingredients: Water (Aqua), Coconut Medium Chain Triglyceride (Caprylic/ Capric Triglyceride) Oil*, Vegetable Glycerin, Avocado (Persea Gratissima) Oil, Organic Rooibos (Aspalathus Linearis) Tea Extract, Cetearyl Olivate, Sorbitan Olivate, Stearic Acid, Cetyl Alcohol, Cetearyl Alcohol, Organic Jojoba (Simmondsia Chinensis) Oil*, Lactic Acid, Xanthan (Xanthomonas Campestris) Gum, Organic Aloe (Aloe Barbadensis) Leaf Juice*, Vitamin E (Tocopherol), Vitamin B Complex (Panthenol), Benzoic Acid, Willow (Salix Alba) Bark Extract, Vitamin C (Ascorbyl Palmitate), Organic Neem (Azadirachta Indica) Seed Oil*, Rosemary (Rosmarinus Officinalis) Extract.
*Certified Organic


2 fl oz